Als je je huis laat renoveren is het altijd hopen dat de aannemer niets onverwachts tegen komt. Maar toch is het niet ongewoon om waterschade te vinden, kabels die vervangen moeten worden of andere onplezierige dingen zoals termieten als de vloeren open gaan.
Maar toen een familie in San Francisco hoorde wat de bouwvakkers vonden toen ze hun huis renoveerden, kregen ze een grote schok. De bouwvakkers vonden een lijkkistje, net groot genoeg voor een klein kind onder het huis van de familie. De lijkkist had een deels glazen deksel en je kon duidelijk het lichaam van een twee jaar oud kind zien.
Geschrokken, maar ook nieuwsgierig vroeg de familie zich af wie dit kleine meisje was – en nu, een jaar later, wordt de waarheid onthuld.
De lijkkist onder het huis was uit de 19e eeuw. Het was volledig luchtdicht en het lichaam van het meisje was bijzonder goed bewaard gebleven. Door het glas kon je haar gezicht zien en je kon zien dat ze een bosje bloemen in haar handen hield.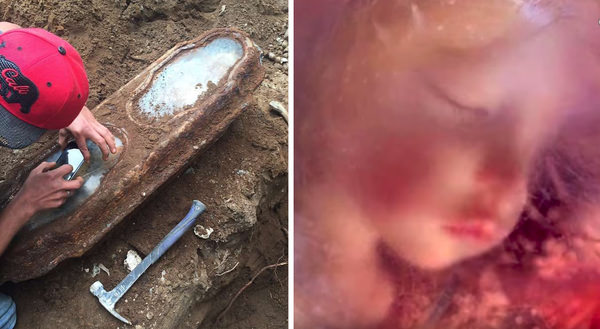 Ericka Karner woont in het huis waar het meisje gevonden werd en ze belde de politie en de Garden of Innocence, een organisatie die begrafenissen organiseert voor anonieme en/of achtergelaten kinderen.
Het bleek dat het land waar Erika haar huis op gebouwd was, tot 1930 een begraafplaats was geweest. Toen werd het land herontwikkeld als woongebied en werden alle graven verwijderd. Maar het kistje van het kleine meisje werd vergeten.
Garden of Innocence noemde met meisje Miranda en begroef haar op een andere begraafplaats. Maar ze wisten nog steeds niet wie ze was. Dus ze bleven zoeken naar de identiteit van het meisje.