Een baby in Engeland laat alle hoofden draaien, waar hij ook gaat – vanwege zijn lange, pluizige haar.
Junior Cox-Noon werd op 30 juli geboren in Brighton General Hospital en woog 5 kilo.
En daarom werd Junior zo een lokale beroemdheid – hij is nog maar 9 weken, maar hij heeft al zoveel haar dat hij nu de bijnaam ´Kleine beer´ draagt.
´Hij kwam naar buiten met massa´s haar,¨ zegt Junior´s moeder Chelsea Noon. ¨Ik realiseerde me niet hoeveel hij had tot zijn eerste bad.¨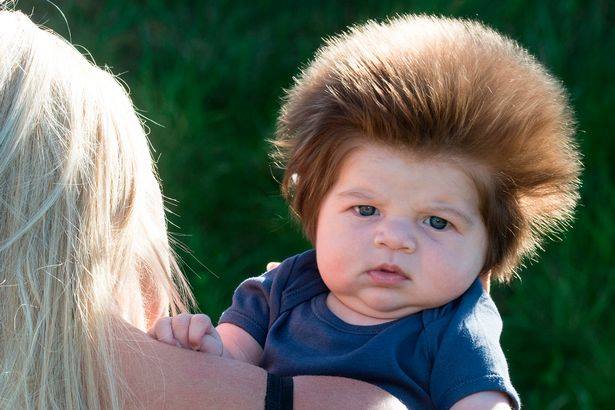 ¨Toen hij werd geboren was het vrij dik maar iedereen zei dat het zou stoppen en uitvallen. Hij heeft echter niets verloren – er ligt niets op de grond, niets in zijn stoeltje of op zijn bord, het blijft maar groeien, en het groeit omhoog waardoor het overeind blijft staan,¨ vertelt Chelsea aan The Mirror.
De 32-jarige moeder van 3 kinderen, zegt dat het nu tussen de 40 minuten en twee uur duurt om haar wekelijkse boodschappen te halen – omdat iedereen even het haar van Junior wilt aanraken.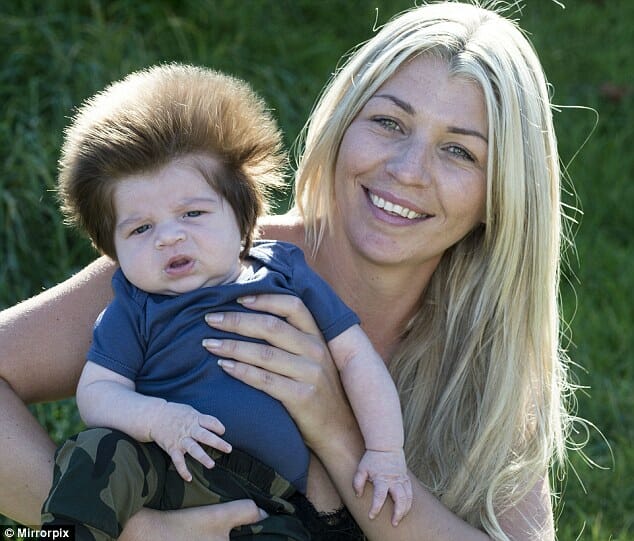 Veel mensen willen het geheim achter de pluizenbol van Junior weten.
¨Iedereen stopt en zegt: ´Oh god, kijk eens naar het haar van die baby´, en dan zegt de volgende: ´Hij heeft zoveel haar´,¨ legt Chelsea uit.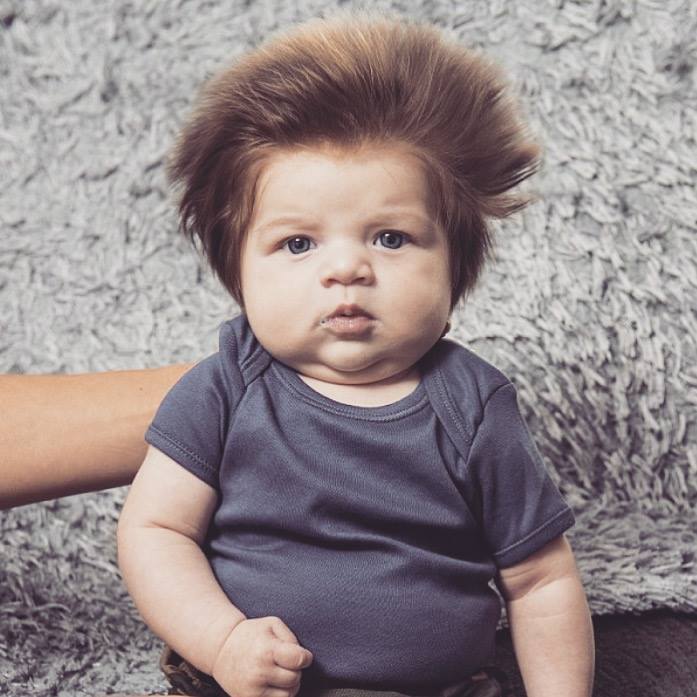 De moeder zegt dat ze het haar van Junior moet föhnen, omdat het te lang duurt om natuurlijk te drogen. Ze zegt dat ze nog niet van plan is zijn haar te knippen.
¨Ik wil het zeker niet knippen. Ik wil zien hoe lang het groeit. Ik weet niet waar zijn haar vandaan komt, het is als een grote bal flossdraad,¨ zegt Chelsea.